Being consistent is the big key for success, both to lose weight and to gain or maintain it.
You should record the food you eat daily and meet your movement and physical activity goals. Otherwise, that can hurt your results. Since your calorie goal is set based on it.
iUcalorie helps you visually see your consistency throughout the year with a global vision. In this graph you can see your consistency in your different goals throughout the year. Perhaps you have taken a vacation, or you have abandoned your routine for a while. In this graph you will see it clearly and you will also see when you were consistent again.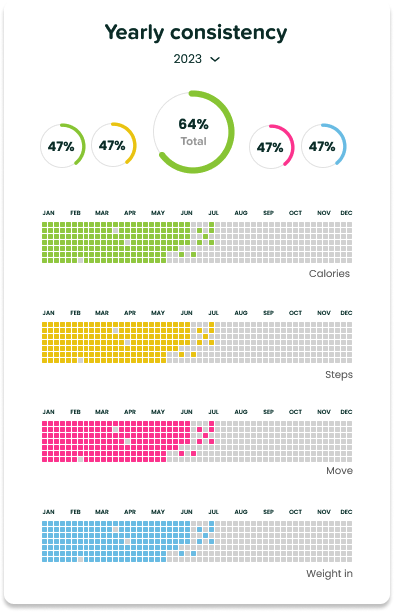 On the other hand, we offer you a vision of your most immediate consistency this week. The idea is that you can focus on your weekly consistency, meet your kcal and movement goals and in this way the annual vision will be completed thanks to your weekly consistency.
Without a doubt, establishing a routine and making it easy for you to follow it will be vital to sticking to it and be motivated each day.
Was this article helpful?